YOU ASKED. WE LISTENED!
For our patients who need minimal orthodontics to optimize their smile, and after much research of the clear aligners market, Dr. Bill has chosen to provide our patients with REVEAL Clear Aligners by Henry Schein.
Reveal Your Smile
Reveal Clear Aligners are a simple, discreet, and affordable solution for straighter teeth.
Reveal Aligners are practically invisible and stay clear throughout treatment — no yellowing or staining. With Reveal, you wear each tray for two weeks, and they are guaranteed to stay clear throughout the course of treatment.
Most dentist-provided aligner systems require attachments, or "buttons," that are glued to your teeth. Attachments can be an aggravation. They require time at the dentist's office to place on your teeth, and some patients think they are unsightly.
Reveal was specially designed to reduce the need for attachments. It uses a unique material and manufacturing process that results in a secure fit to hug the teeth, resulting in tooth movement with fewer attachments or no attachments, in most cases.
Why Reveal Clear Aligners Are the Right Choice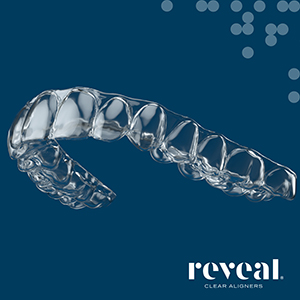 Virtually Invisible: Exclusive manufacturing processes means Reveal Clear Aligners are not cloudy and don't have visible lines, letting your natural teeth shine through.
Comfortable Feel: Hand-finished for velvety edges, Reveal Aligners feel great during treatment.
Uniquely Clear: ClearWear™ Material is crystal clear and guaranteed* not to discolor or stain with normal use and regular cleaning
Achieve Your Best Smile: Pioneering, innovative technology offers efficient, predictable treatment.
Reveal Clear Aligners Process
Start Your Journey to a Better Smile
The process for getting Reveal Clear Aligners is simple and requires only a few appointments.
Your Reveal Clear Aligners clinician-guided treatment plan
Visit our office for a Reveal smile consultation with Dr. Bill.
If you are a Reveal candidate, we will take pictures and make impressions of your teeth.
We will send your case to the Reveal laboratory in order to generate your custom treatment plan.
Once your treatment plan has been completed, you will come to the office to approve your plan.
Once you have approved your plan, your aligners will be expertly manufactured by our Reveal laboratory.
Once your aligners arrive at our office, we will call to set up an appointment to begin your Reveal journey.
Dr. Bill will supervise your progress to ensure you get a smile you will love.
Your Smile for Life
We understand you have options when it comes to aligners. Seeking treatment from Dr. Bill will give you the opportunity to address all of your oral health needs. We can monitor your progress from start to finish — and support you throughout the entire treatment.
Our Patient and Accounting Manager, Cindi, volunteered to be our very first Reveal case. She could not be happier with her beautiful new smile. Cindi loves to share her BEFORE AND AFTER treatment plans, so we decided to let you see the difference for yourself. Her results definitely get a WOW!

If you are interested in learning more about Reveal, or to determine if Reveal will work for you to improve your smile, please call the office at 214-320-9679 or email us at info@billwhitleydds.com.