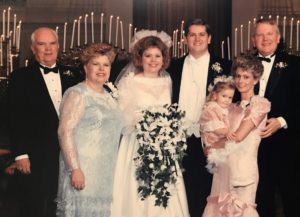 When it comes to dads, it seems as if there isn't anything they can't do. From the very beginning they love us unconditionally, become our first teachers, steady us during our failures, and provide valuable fatherly advice. Fathers are so important in our lives and with Father's Day right around the corner, we thought we'd take a moment to celebrate just how special they are!
This Father's Day is especially meaningful to Dr. Bill and his wife Tamara. Dr. Bill will spend Father's Day taking his son to Drum Major Camp. Most importantly, both Dr. Bill and Tamara will take time to reflect on both their fathers who have passed away this year. Dr. Bill and Tamara believe that fathers are so influential as they are the leaders of the family unit and set the foundation for family values.
One of Dr. Bill's favorite memories of his father was when he took Dr. Bill to Canon City, Colorado. They stayed at the Park Lane Motel, ate at Merlino's Belvedere, and drove along the Skyline Drive at sunset. Tamara's cherishes the memory of her father attending all of his grandson's, Nick, school events! Both Dr. Bill's and Tamara's fathers believed that family mattered most. Dr. Bill's father made his way back to him after a 16-year absence. Tamara loved the way her father loved her mother for almost 65 years during their time together before his death.
Fathers play a large role in who we become, Dr. Bill inherited the love of books - especially Ian Fleming's "James Bond" series from his dad. Tamara inherited her detail oriented, perfectionism from her dad. If Dr. Bill and Tamara could each describe their fathers with one movie Dr. Bill would choose "Let it Ride" because his dad threw caution to the wind. Tamara's father would be "Dances with Wolves" because it was one of the only movies he ever actually watched in a theater!
We hope you have a wonderful Father's Day celebrating all the amazing fathers out there! Have a great rest of the month!