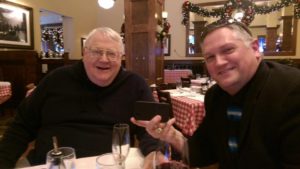 January has come and gone and we can't wait for all that February has in store! Candy hearts and red roses are fine and dandy, but we think February is the perfect chance to spread love and kindness to everyone! Whether you're single or in a relationship, we're sharing a few ways we all can share the love.
When patients come to Whitley Family Dental, we truly think of them as family. We're looking forward to seeing our wonderful patients come into our office this Valentine's Day. Even though we won't be indulging too much in Valentine's Day treats, we can't say no to a little chocolate here and there!
Candy aside, we think it's so important to remember that life is short. Last year, Dr. Bill's father passed away from Stage 4 Non-Hodgkin's Lymphoma. We are so thankful for the many wonderful years we shared with him and the loving memories we will always hold dear. So whatever your Valentine's Day plans, be sure to let those around you know that they are loved.
Did you know February 17th is National Acts of Kindness Day? We encourage everyone to participate in any way that they can but also remember to spread kindness all year long. Even something small like a smile could turn someone's day around!
In honor of American Heart Month, we want to remind everyone to take care of themselves and be aware of the warning signs for heart disease. So many people are affected by heart disease each year but one way to set yourself up for a healthy heart is with a healthy diet. We had the pleasure of attending an event where Princess Diana's former chef, Darren McGrady, shared one of the princess' favorite heart-healthy recipes. It's not only good for you but it proves that healthy food can still be delicious! We've included the recipe below so be sure to let us know what you think!
We hope this month brings you and your family lots of love. Have a wonderful February and we hope to see you in the office soon!
Honey, Lime and Cilantro Chicken
1 quart fat free chicken broth

4 four oz. chicken breasts

½ c garlic, crushed

1 tbsp. light soy sauce

1 tbsp. green onion, finely chopped - light green part

¼ c honey

1 tbsp. olive oil

1 tbsp. lime juice

1 tbsp. cilantro
Place the chicken breasts side by side in a large pan and pour over the broth. Place on a high heat and bring to a boil. Reduce the heat to a simmer, place a lid on the pan and cook until the chicken is tender, about 8 minutes. Remove the chicken breasts to a plate and keep warm. The broth can be poured into a plastic container and frozen for another use.
In a small pan, add the olive oil and saute the onion and garlic over a low heat until it starts to soften. Stir in the honey, soy sauce, green onion and lime juice. Add the juices from the plate the chicken is on. Slice chicken onto a serving plate and pour the dressing over the top. Sprinkle with cilantro just before serving. Serves 4.